Monday 23rd March 2020
To whom it may concern,
STATEMENT CONCERNING COVID-19 (CORONAVIRUS)
During these unprecedented times, BPC Energy Limited are continuing to closely monitor developments with respect to the Coronavirus (COVID-19). We have been taking steps to ensure the safety and wellness of our employees by provide key personnel the ability to work from home and ensure the business can continue its operations and reduce possible impact on our customers to a minimum.
These are uncertain times, especially with regards to the supply chain and its ability to meet commitments. BPC Energy expects that the impact to shipping will result in a reduction of delivery reliability, route frequency and availability mid to long-term. We are working closely with our customers to determine any potential impacts or delays. We are also verifying our supplier's ability to supply raw materials to continue running our manufacturing sites.
BPC Energy does have supplier sites in China that were under extended holiday or restricted work return dates, however, those sites have now all resumed production. All our manufacturing plants, suppliers and facilities have remained fully operational therefore providing low risk from these locations at this time.
Our production department are working tirelessly to fulfil orders and ensure we are able to meet customer expectations. However, the issue we continue to face is the slow acceleration on production and a slow down for logistics as a result of delays at shipping ports and the shortage of trucking we have seen country to country. Our procurement team have been actively engaged with our key raw material suppliers to understand any impact. We will continue to work closely to ensure our suppliers can meet our needs to keep our manufacturing processes running. Our commercial teams are very engaged with customers and working to identify any potential impacts as we work through this together.
We realise this situation remains very unpredictable and we will continue to provide updates as we learn more.
BPC Energy are keeping those directly affected by this virus in our thoughts and we wish you all the very best in navigating the times ahead.
Yours faithfully,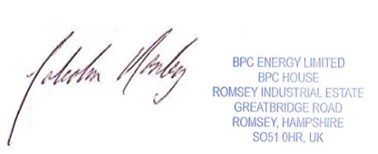 Managing Director
BPC Energy Limited
To find out more, read the article here