Tuesday 1st December 2020
To whom it may concern,
UPDATED STATEMENT CONCERNING COVID-19 (CORONAVIRUS)
We are continuing to closely monitor developments regarding the Coronavirus (COVID-19). We have been taking steps to ensure the safety and wellness of our employees, reviewing business continuity plans regularly.
As you are aware, the entire global supply chain has been impacted due to the coronavirus outbreak, including factory closures and large-scale disruption in marine container shipping services. BPC Energy has experienced that the impact to shipping has resulted in a reduction of delivery reliability, route frequency and availability short to mid-term. We are working closely with our customers to determine any potential impacts or delays. We are also verifying our supplier's ability to supply raw materials to our sites to continue running our manufacturing sites.
The issue we continue to face is a slow down for production and logistics as a result of delays at shipping ports and the shortage of trucking from country to country. We continue to work hard to ensure our suppliers can meet our needs to keep our manufacturing processes running, but things are far from normal and we are still experiencing delays in both manufacture and logistics.
The UK Government has imposed multiple lockdown measures over the past few months on all businesses, the most recent being a 4 week lockdown in November 2020. BPC Energy has provided key personnel the ability to work from home and ensure our business can continue its operations and reduce possible impact on our customers to a minimum, however, there have been unavoidable delays in logistics and shipping of key stock shipments that continue to provide challenging times.
We realise this situation remains very unpredictable and we will continue to provide updates as we learn more.
Yours faithfully,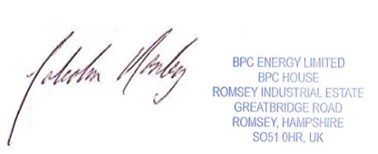 Managing Director
BPC Energy Limited