When it comes to backup systems, there are two main players in the field: central battery systems and uninterruptible power supplies. While they may seem interchangeable, there are some crucial differences that can make all the difference when it comes to finding the right fit for your particular needs.
In this blog, we will arm you with the information needed to assess your specific requirements when choosing between the two systems, the various factors that decide whether to install a UPS (Uninterruptible Power Supply) or CBS (Central Battery System), and when each system should be installed. However, before we delve in, let's cover the basics.
What is an Uninterruptible Power Supply?
An Uninterruptible Power Supply system provides uninterrupted power supply to critical equipment and devices during power outages. They are crucial components that many businesses and industries rely upon to not only protect hardware but also maintain continuous operations and productivity, all without interruption. UPS systems also protect sensitive or critical equipment from potential damage and data corruption due to power surges and fluctuations.
With UPS systems, businesses can have peace of mind knowing they can mitigate negative impacts of power interruptions, and have smoothly running operations, even when issues arise.
Here at BPC, we provide highly reliable, scalable, and efficient UPS systems for your critical power needs, offering the best-in-class innovation and technology, suitable for a wide range of applications and industries. We like to go the extra mile by also providing a tailored package to help you with the right sizing, runtimes, and services required to meet your clients needs as well as any specific requirements.
Some of the UPS services we provide:
UPS Software – ViewPowerHTML – an advanced UPS management software that allows users to monitor and manage multiple UPS in a networked environment, remotely. It is designed to store programming data, prevent data loss, and safely shut down systems.
UPS Software – UPSilon – a monitoring and control software designed for use with smart UPS's. It displays the status of the UPS (indication when it's ON, input & output voltage, line frequency, load, temperature, and battery capacity), and sends alerts to warn users in the event of complications. It can also monitor your UPS remotely and manage the power more efficiently, through the network.
Pre-Sales Support – can include Site Surveys and testing of the existing equipment to identify any potential issues and determine the best protection options by our highly qualified engineers and approved installation engineers. In addition, we offer System Design that tailors a solution to meet all your exact requirements, regardless of the size or complexity of your application. We can carry out general UPS and battery installation Health Checks to ensure you have complete protection at all times.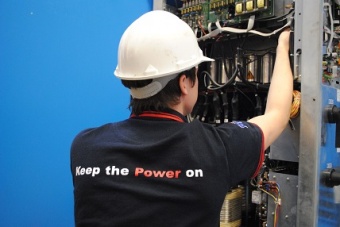 We believe it is important to provide our technical expertise and guidance to help ensure that your facility is protected from potential disruptions and downtime and make the most of your UPS investment. Check out the full range of Services we provide to help make your UPS installation a truly worthwhile investment that leaves you with the peace of mind to successfully run your business.
What is a Central Battery System?
Emergency lighting is a critical safety feature that must be provided in any building or facility to ensure swift and safe evacuation in case of an emergency. It is required by law, and it is vital that all systems comply with British Standard EN 50171.
Central Battery Systems are crucial emergency lighting solutions designed to support your lighting, fire safety and emergency backup systems. They are central power supply systems that protect your emergency and exit lights, exit signage and other life safety devices in the event of a power failure. They are also ideal for backing up critical equipment like fire alarms, security, and data centres.
At BPC, we provide a range of Static Inverter Systems designed to support your emergency lighting needs by providing bright, reliable light, even in the event of power failure. Our PowerPro EL range of Static Inverters also feature dimming control and remote monitoring capabilities, all while complying with British and European emergency lighting standards.
PowerPro EL300DSP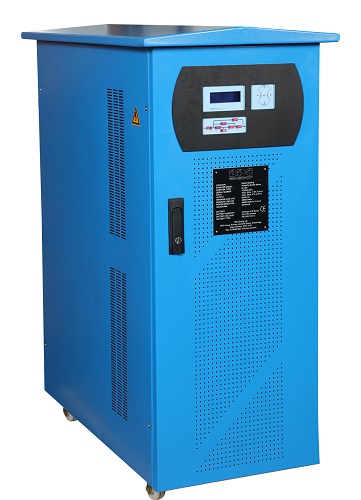 In addition, our PowerPro EL300 static inverters come with BSI Kitemark approved with the UAE Civil Defence, providing assurance that samples are regularly subjected to rigorous, independent testing to ensure that they comply with stringent standards for quality, safety, product performance and reliability. A testament to our commitment of maintaining the highest possible standards.
What is the main difference between Central Battery Systems and Uninterruptible Power Supply?
Although central battery systems and uninterruptible power supply systems are quite similar, there are key differences that affect their suitability for certain applications and environments.
Central battery systems are typically used in larger buildings where a centralized power source is desired. These systems provide a reliable and scalable solution for emergency lighting and power backup. On the other hand, uninterruptible power supplies (UPS) are designed to provide backup power to critical devices when the main power source fails or experiences fluctuations. UPS systems are commonly used in data centres, hospitals, and other environments where continuous power supply is essential.

Uninterruptible Power Supply vs Central Battery System: When should a CBS be installed instead of a UPS?
When considering backup power options for a building, it is important to assess your specific needs.
A Central Battery System should be installed instead of an Uninterruptible Power Supply (UPS) in larger buildings where a centralized power source is preferred. These systems are typically used for emergency lighting and power backup applications. It should be installed in a building if emergency lighting is the only backup power required, however, if other electronic equipment needs to be backed up in addition to emergency lighting, then a UPS should be installed. Similarly, a UPS should be installed in a building if the backup requirements are for electronic equipment other than emergency lighting.
In addition, Central Battery Systems provide a reliable and scalable solution that can handle the power requirements of multiple devices throughout the building. On the other hand, UPS systems are ideal for situations where continuous power supply is essential for critical devices. They are commonly deployed in data centres, hospitals, and other environments where even a momentary power failure or fluctuation can cause significant disruptions.
Furthermore, CBSs are designed to adhere to a set of governmental standards, such as BS EN 50171, that require a minimum level of safety provided by a CBS to the life safety equipment that they are designed to support, hence their suitability for emergency lighting needs.
Ultimately, if outage protection is required for both emergency lighting and electronic equipment, then both a UPS and a CBS should be installed.
Advantages of a UPS System:
UPS systems can be used in a wide variety of applications.
More energy efficient than a central battery system
Less expensive to install and maintain.
A UPS system can save valuable time and money by providing protection against interruptions and blackouts.
An eco-mode UPS can return to full VFI operation when needed. This helps reduce environmental impact and energy consumption of the overall system.
Advantages of a Central Battery System:
More efficient than a UPS system
Ideal for large data centres or power plants
Central battery systems provide an uninterrupted power supply to a group of loads from a central location.
These systems are more space and energy efficient because the batteries are located in a central area, rather than being spread out among different devices.
A central battery system can be designed to meet specific needs, such as providing backup power for emergency lighting or fire suppression systems.

Uninterruptible Power Supply vs Central Battery System: Cost comparison between UPS and CBU
A CBS (AC/DC) is more expensive than a UPS as it requires a costly inverter to convert electricity from AC to DC and back again. Furthermore, central power supplies require a constant electrical connection to the grid, which can prove problematic in remote or unconnected locations.
On the other hand, UPS do not require continuous connection to the grid, so they are more cost-effective in areas with unreliable power supply. However, if you need backup power for longer durations of time, consider purchasing a central power system instead of a battery backup system.

In conclusion, UPS systems can be installed in almost any commercial or residential building to provide backup power during an outage. They are highly beneficial because they provide backup power and prevent damage to sensitive electronics such as computers, servers, and phones due to sudden fluctuations in voltage or outages. However, they do not supply continuous power like a central battery system (CBS). A CBS is ideal for high-load systems such as data centres or server rooms that always require uninterrupted power supply. When deciding between installing a UPS system or a CBS for your business or home, keep the above points in mind. You can also get expert advice from our trusted professionals at BPC Energy for more information on backup systems.
If you want to learn more about how an Uninterruptible Power Supply can benefit your business, get in touch with our experts for personalized guidance and solutions.
OR, WHY NOT CHECK OUT OUR RANGE OF SINGLE PHASE UPS, THREE PHASE UPS and MODULAR UPS SOLUTIONS: BPC UPS Products